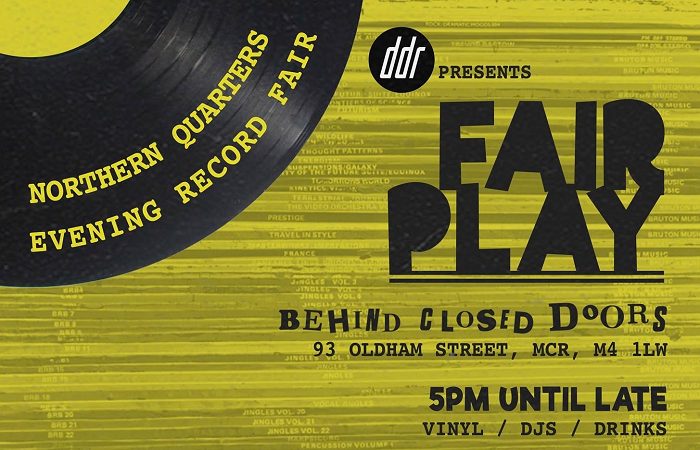 Fair Play – The Northern Quarter's Evening Record Fair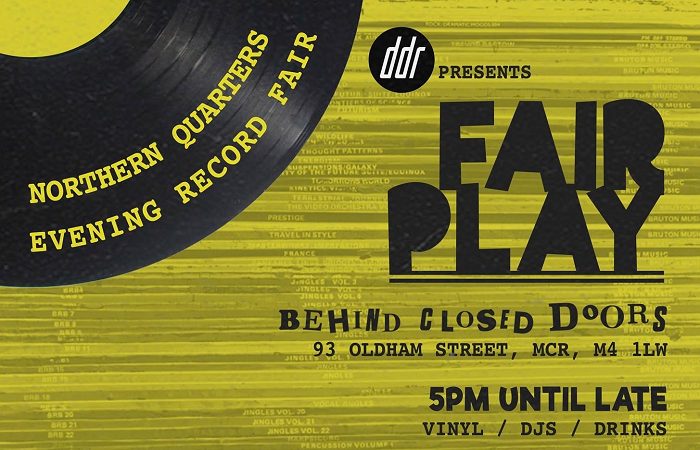 Fair Play is currently on hold due to the pandemic but will return in the near future.
Fair Play is quickly becoming Manchester's coolest evening record fair. Situated in the heart of the Northern Quarter, Fair Play takes place on the first Thursday of the month in the Behind Closed Doors basement.
Organised by the Fair Play team here at Dig Deep Records, our record fairs are as much a social event as an opportunity to unearth that gem you've been looking for.
Fair Play packs a room full of vinyl available to purchase, with rotating sellers each month, so each event is different.
Our fairs attract sellers from all over the county with the aim of bringing some fresh records into the city. Crates of boogie, funk, disco, soul, nu disco, edits, latin, jazz, house, techno, DnB, hip hop, and afrobeat, rub shoulders with rock, indie, prog, folk, reggae, and dub!
Doors open from 5pm, with DJs selecting a soundtrack of upbeat funk, soul, disco, and boogie, playing well into the night.
Entry is free, but you can support the cause by buying a drink from the well stocked bar.
Video source: www.manchestersfinest.com
JOIN THE FACEBOOK GROUP RECORD FAIRS
---
Dealer Information
Table Bookings
Free dealer tables are currently available at most of our record fairs, however we do recommend booking in with us early to avoid disappointment.
Tables provided are generally 4ft x 2ft 6ins. If you need more space, that's fine just let us know. Seating is provided.
Bookings can be made on the website using the contact form below.
Fair Play takes place on the first Thursday of the month from 5pm till 11pm. Sellers are able to unload directly outside the venue from 4.30pm.
New Dealers
New dealers are always welcome at our fairs. Please use the contact form below to ask any questions. We are always happy to help.
Partner With Us
We are currently seeking partnerships with companies that want to integrate one of our pop up record fairs with their venue, event or brand. Our aim is to bring together music lovers to buy and sell records, listen to music and dance.
Our team is based centrally in the North West and travel in the UK is not a problem. To discuss our flexible booking options please contact us using the form below.
Contact Us
Got a question about our record fairs? Please use the contact form below and we will get back to you ASAP.